Thanks to the many helpers from the forum who made a CAD representation of the loaf pan possible in the first place!

Each and every one of them is listed in the credits.
Hi everyone,
a loaf pan made by a layman is presented in its actual state -
as is
.
The history at the end of the post below is reflecting changes and releases.
The presented model is functionally mature and ready for practical use.
Very little effort and only limited experience in FreeCAD is needed for the creation of an individual loaf pan having exactly the capacity and dimensions required.
Two basic steps are neccessary to get a pan like this:
Entering the pan measures and exporting
Passing the 3D-model to a workshop
Jeno
created and contributed this image,
all important aspects are nicely visible.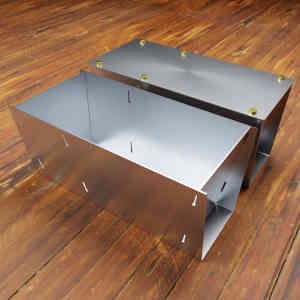 Full information about the loaf pan in its physical aspects is provided on these pages:
In english language

(planned for December)
A collection of precreated sizes may be found here:
english

(planned for December)
For each size in the table, models also are offered for download
(STEP exports)
:
english

(planned for December)
(latest edit 24th Nov 23)
Known issues
- Sketch flipping occasionally, details coming asap
- Slight datum line deviation from valid position on top of pan. Without noticeable effect on model validity.
Status as of 17th Nov. 2023
Warning
:
Attached FreeCAD documents are NOT considered examples for preferred practices. Nor are they examples for nice UI-principles, mathematical or programmatic beauty. They are to be taken 'as is' for any versions released.
What the FreeCAD document is:
It is one fairly simple sample for some features of what and how it can be done using FC. Given some effort only, it is not very difficult to follow its methods and paths for a user new to FC.
Credits -
Credits -
Credits
Each one of the helpers for this little project is listed in alphabetical order.
If the listing is not including your name, please accept my honest apologies and let me know! Your name will be included asap.
@adrianinsaval
|
@AntonG
|
@bambuko
|
@Bance
|
@blue0cean
|
@chrisb
|
@Cobraschock
|
@Dirk.B
|
@domad
|
@drmacro
|
@easyw-fc
|
@edwilliams16
|
@FBXL5
|
@Franz Tenbrock
|
@GeneFC
|
@heda
|
@IanP
|
@imm
|
@Isabel
|
@jeno
|
@jimb
|
@kaih
|
@kisolre
|
@M4x
|
@mfro
|
@NewJoker
|
@Nick_Ray
|
@onekk
|
@papyblaise
|
@rdinohio
|
@rmn_hr
|
@Roy_043
|
@Shalmeneser
|
@TheMarkster
|
@thomas-neemann
|
@user1234
|
@wmayer
|
@Workshop_Notes
License:
For commercial use: Please contact:

mail(at)ulisblog.info
History:
Attachment:
The attached FCStd file alway is the latest version. Older versions may be downloaded using history links.
Editing rule:
Edits are marked only if neccessary in case of major changes. If they rather would disturb readability instead of being helpful, they are omitted.